This is the project page for the LeaRN Japanese RPG: Slime Forest Adventure.
SFA can teach you basic Japanese literacy with: katakana, hiragana, and kanji.
It is playable and the first storyline ("Jenk's Adventure", for introductory kanji recognition) is essentially complete. There are demo and registered versions available for Windows, OS X, and Linux.
-Darrell Johnson
(contact by email - all inquiries welcome)
---

Support development by becoming a member!
---

Talk to other Slime Forest players, get help with the game, get help with Japanese, meet new people.
---

New version: Build 163 (changelog)
Friday, October 3 2014
More updates coming soon!
Current Features
Demo version of Slime Forest Adventure:
optional introduction to katakana and hiragana
learn to recognize and distinguish 200 kanji
the adventure begins with Episode 1
start learning kanji readings with a sample sidequest
introductory vocabulary and grammar in Supplementary Training
The Gradeschool Kanji registered version additionally has:
the adventure continues with Episodes 2-4
expanded set of 1,000 kanji, with readings training
full sidequest to train and test kun readings
additional readings training and testing coming soon
The Common Use Kanji registered version also has:
expanded set of nearly 2,000 kanji
complete readings training with ~3,000 example words
full sidequest to learn kun readings for 1,000 kanji
replay the story on Hard Mode to learn more kanji and their readings
continuation of main story coming soon
Slime Forest Adventure
Fight slimes, save a princess, learn Japanese!
Screenshots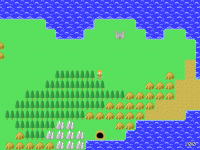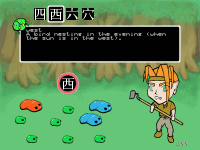 ---
News
Friday, October 24
After completing the rough cut of the story, the near-future plan for Slime Forest is to port it to asm.js, so it can be played on nearly every platform, including phones and tablets, in web browsers. I'm still going to have the native versions, at least for Linux and Windows. With the SDL (which Slime Forest is built on) and asm.js, it's relatively easy to compile the same game so it runs in the browser or as a native application.
The technology for browser games is getting fairly mature. You can see it used in the Humble Mozilla Bundle. If you look at those games, you can see that the browser version won't be a step down for Slime Forest in terms of how well the game runs and plays.
Friday, October 3
Just a small bug fix release today. Still working on the major release, but I got some good bug reports that I felt should be dealt with.
Tuesday, September 16
I'm working on a major release, which extends the story to an ending, with four new areas. After it's done, I'll go back and add sidequests, and generally polish things up. Sorry for only minor updates this last couple of weeks, I expected to be done sooner.
Monday, September 8
Another minor release. This one changes the spell charging to be more logically based on fighting with the spellbook equipped.
Wednesday, September 3
Very minor release today. Just changes the text entry to be more standard: you can enter しんとう as "shintou" rather than "shinntou", since it's not ambiguous when the "n" is followed by a consonant. You still have to type "anni" to get あんい, since "ani" will be あに. Text entry is still in katakana, to ensure you get enough katakana practice, and as a style thing, because of the association of katakana with very primitive computer systems (like ALL CAPS).
Friday, August 29
New release today. The spells now each have their proper effects, gameplaywise.
Tuesday, August 26
The mailing list / email newsletter has been discontinued. It's just not arriving for half of the people on the list, due particularly to gmail refusing automated mail from lrnj.com (it doesn't even put it in the spam folder, it just refuses to deliver -- apparently the system decided that individually requested password-fix emails were "unsolicited bulk email").
Saturday, August 23
New release today, adds spell charging and casting.
Update Notifications