This is the project page for the LeaRN Japanese RPG: Slime Forest Adventure.
SFA can teach you basic Japanese literacy with: katakana, hiragana, and kanji.
It is playable and the first storyline ("Jenk's Adventure", for introductory kanji recognition) is essentially complete. There are free and registered versions available for Windows, OS X, and Linux.
-Darrell Johnson
(contact by email - all inquiries welcome)
---

Support development by becoming a member!
Membership benefits start at $1 and $20 is a standard membership.
---

Study kanji on your smartphone or other web-capable device.
---

Talk to other Slime Forest players, get help with the game, get help with Japanese, meet new people.
---

New version: Build 165 (changelog)
Tuesday, November 25 2014
Sorry for the delays in updating this further. Development is currently focused on the web app.
Current Features
Free version of Slime Forest Adventure:
optional introduction to katakana and hiragana
get comfortable with kanji
learn to recognized and distinguish a thousand kanji
the adventure begins with Episodes 1-4
start learning kanji readings with a sample sidequest
introductory vocabulary and grammar in Supplementary Training
The Gradeschool Kanji registered version additionally has:
start learning to really read Japanese, by learning words written in kanji
full sidequest to train and test example words for kun readings
master seven powerful spells!
additional sidequests coming soon
The Common Use Kanji registered version also has:
the adventure is completed with Episodes 5-8
expanded set of nearly 2,000 kanji, enough for basic literacy
complete readings training through vocabulary, with ~3,000 example words
more sidequests coming soon
Slime Forest Adventure
Fight slimes, save a princess, learn Japanese!
Screenshots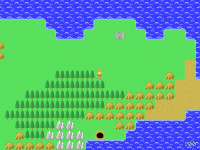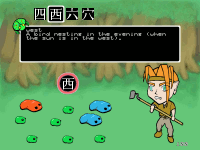 ---
Update Notifications


Mini News
Wednesday, August 31
First public release of the web app. It's pretty basic, but I've been using it and I think it's quite handy for studying on portable devices. I'm set up for incremental development on it, and hope to rapidly expand and improve it.
Currently it only includes kanji discrimination training, but I intend to add katakana and hiragana recognition, kanji readings, vocabulary, grammar, mini games, and auxiliary material like instructions for Slime Forest Adventure.
The long delay in further updates to Slime Forest Adventure has been due to the combination of health problems with a data loss which cost six months of source code and art additions, including things necessary to build the most recent release.
My health has improved recently, and hopefully I'll be able to get some revenue with the web app to be able to do data recovery and regain the ability to make additions to Slime Forest Adventure.
The mailing list has been discontinued due to issues with getting on spam lists.