This is the project page for the LeaRN Japanese RPG: Slime Forest Adventure.
SFA can teach you basic Japanese literacy with: katakana, hiragana, and kanji.
It is playable and the first storyline ("Jenk's Adventure", for introductory kanji recognition) is essentially complete. There are free and registered versions available for Windows, OS X, and Linux.
-Darrell Johnson
(contact by email - all inquiries welcome)
---

Support development by becoming a member!
---

Talk to other Slime Forest players, get help with the game, get help with Japanese, meet new people.
---

New version: Build 165 (changelog)
Tuesday, November 25 2014
More updates coming soon!
Current Features
Free version of Slime Forest Adventure:
optional introduction to katakana and hiragana
get comfortable with kanji
learn to recognized and distinguish a thousand kanji
the adventure begins with Episodes 1-4
start learning kanji readings with a sample sidequest
introductory vocabulary and grammar in Supplementary Training
The Gradeschool Kanji registered version additionally has:
start learning to really read Japanese, by learning words written in kanji
full sidequest to train and test example words for kun readings
master seven powerful spells!
additional sidequests coming soon
The Common Use Kanji registered version also has:
the adventure is completed with Episodes 5-8
expanded set of nearly 2,000 kanji, enough for basic literacy
complete readings training through vocabulary, with ~3,000 example words
more sidequests coming soon
Slime Forest Adventure
Fight slimes, save a princess, learn Japanese!
Screenshots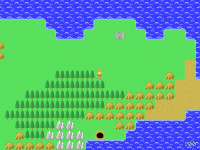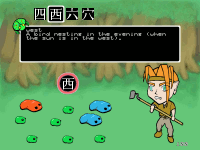 ---
Update Notifications


Mini News
Tuesday, November 25
I've expanded the content of the "Demo" to include chapters 2-4 and teach kanji recognition for the gradeschool kanji.
Now it's a substantial game which gets you through one of the hardest parts of Japanese rather than a demo, so I'm just calling it the "Free Version" again.
I always wanted this much of the game to be free, so I'm happy to be able to do that. However, I still need your help to be able to continue improving the game. Please register or donate.
Saturday, November 15
Now you can make a member account on lrnj.com with no minimum payment. You just have to put some PayPal transaction through; the amount doesn't matter. The game price hasn't changed, though.
I've also made some changes with the new server, to make the site more secure. Member stuff is now SSL-only.
Reactivated the mailing list.
Sunday, November 6
Moved to a new server!
Monday, October 27
With today's release, Jenk's adventure continues in four additional episodes, so it tests the rest of the kanji recognition.
The main game is now complete in rough form, aside from lacking a proper ending. Now I'll be adding sidequests, polish, other characters' stories, and porting it to other platforms.